Summer 2021. This course will run again in 2022. The itinerary and schedule is being revised at present to include research visits outside London.
How and why did tea become 'British' ?
Caroline Hope's Afternoon Tea Course is perfect for those wanting to really explore all aspects of traditional English tea time. The workshop will lead you through the basics of tea tasting, traditional baking and tea party presentation. This, in turn, will take you through to understanding the social complexities of English tea time and the history of afternoon tea.
The complete course has been designed to run over four consecutive days; however, if you are in London on a short visit or wish to shorten or lengthen the course then please contact Caroline to arrange a more personalised schedule.
Day 1: The art of making and tasting 'English' teas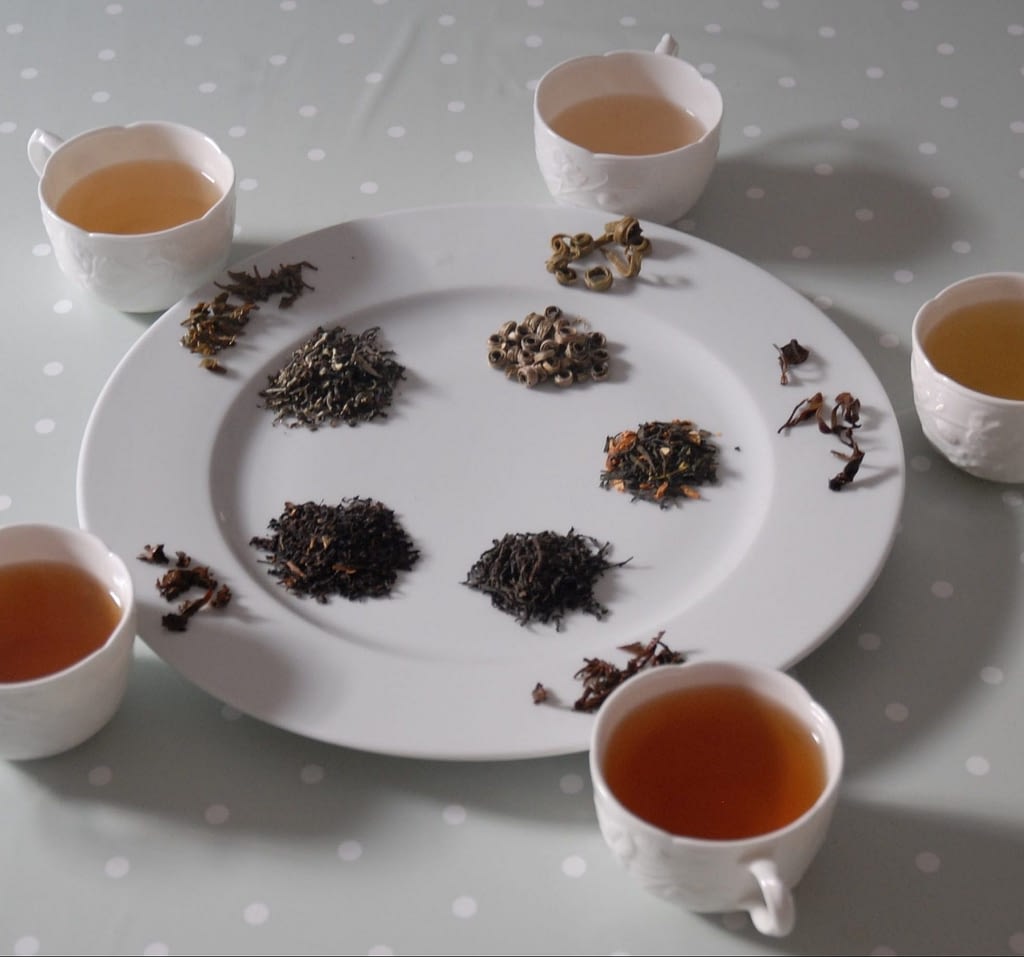 This full-day class is all about tasting tea, how to brew the perfect tea, and understanding how the character of tea has changed in the UK since its arrival here three hundred and fifty odd years ago. You will have the opportunity to taste and examine at least 20 different teas and compare the differences between origin and blended tea; learning to identify depth of flavour, the 'briskness', and the creaminess or astringency of the tea liquor.
Caroline will cover all the brewing basics such as correct water temperature, water quality and brewing times. By the end of this workshop you will have a thorough practical understanding of tea, and you should be able to confidently identify many different types of black and green teas by their look, smell and taste.
Day 2: A history of English tea drinking; the tea paraphernalia
This study day commences at the famous Victoria & Albert Museum to learn about the history of afternoon tea through the designs of tea paraphernalia. Touring through the different galleries of the Museum, we shall see the effects of tea and 'chinoiserie' on European and British culture and design. Using the tea drinking objects as our focal point, you will learn about the journey of tea from its origins in the China and Japan to its arrival and assimilation in Europe.
After a light lunch at the museum, we shall visit some specialist antique dealers to look at porcelain, silver and linens, the equipage for making tea, plus some further places of interest relating to London's tea history.
Day 3: Creating and hosting your own afternoon tea party.
Preparing the food
Time to start baking (and tasting)! You will learn the skills you need to make and bake delicious cakes for a English tea party. Caroline will share her secret recipes for the perfect Victoria Sponge cake, tasty traditional scones, and crumbly melt-in-the-mouth shortbread. By the end of this workshop you will have at least three delicious recipes that you can use for your own afternoon tea party, and all the skills you need to master recipes for other delicious treats.
Hosting the tea party
Having prepared our food in the morning this next module is dedicated to learning the skills of being a relaxed and confident hostess. You will learn some great tips on how to prepare and store food beforehand, those all-important dos and don'ts, and what your role as a hostess really encapsulates. Finally, we shall relax and enjoy a tea party that we have created, from preparing the sandwiches in advance to presenting your cakes on the tea table. By the end of this workshop you will be able to confidently host your very own afternoon tea party, understand tea party etiquette, and learn to enjoy your own tea party as much as your guests will. We shall also discuss how different foods might be served at different tea parties and why. In addition we shall unpick what is meant by etiquette and who were the initial instigators alongside an examination of table manners and how to consume certain foods according to the situation.
Day 4: Tea outside the home
On this final day, our journey takes us through the streets of modern London to look at tea culture and consumption in the public arena. We shall make our way to the West End to visit some of London's best tea merchants, look at how and why different teas are sold in different outlets. Alongside this we shall look at differing examples of English Tea Rooms and their role to finally compare with a luxurious 'Afternoon Tea' at one of the leading West End hotels. This highly publicised image of an English afternoon tea, despite having components present at the domestic tea table, bears little resemblance to the values of the old fashioned highly-ritualized tea party with its values of elegant economy. Participating in both options during the week long course will provide an opportunity to compare them both. Our luxury finale provides an appropriate finale to finish our time together.
Visits outside London can also be included such as to the village of Chawton in Hampshire, to visit Chawton House and the Jane Austen house museum, and Alresford to visualise how life used to be lived in the days of paying social visits, morning calls (that take place after noon!)
WORKSHOP PRICE: £1090 PER PERSON.
The above price is for a minimum of two people. There is an additional Single student supplement of £500 for those choosing to have a private one-to-one workshop. If you wish to book this workshop on a date of your choice, contact Caroline to book your bespoke four day workshop.