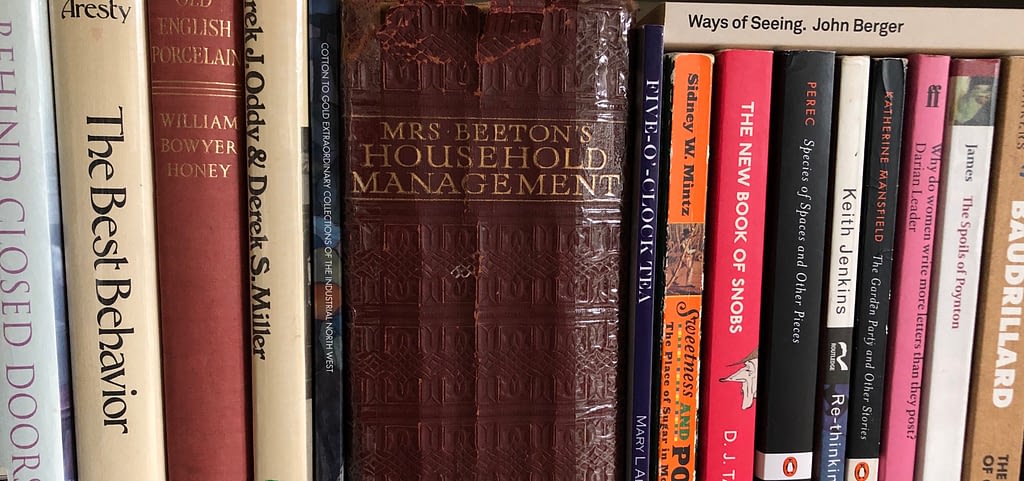 On this page I am sharing some books out of my personal bibliography and reading that has aided me on my research journey. Many of these books are available in libraries and online sources. For the books that are available to purchase, I have provided links through to AbeBooks. If you do purchase anything from a link on the page below, you are helping to support my continuing research and practice about English tea culture. Thank you for your support!
Primary Sources
Five O'Clock Tea, Victorian Afternoon Tea Recipes, Mary L Allen. Facsimile of the original, published by Kegan Paul, Trench and Co., 1, Paternoster ,1887. Published by Jeppestown Press.
Tsiology A discourse on Tea. Being an Account of that exotic – Primary source edition – Tea dealer 1824
An Essay on the nature and qualities of tea, John Ovington, 1697
Mrs Beeton's Book of Household Management – the text of the first edition (1861) can be seen/downloaded on the free resource, Project Gutenberg. Mrs Beeton's Book of Household Management continued to be revised and published well for more than 100 years. The chapters to look at are those at the beginning of the book that relate to behaviour/performance of social interactions and the later chapters relating to the serving of tea and the assorted recipes.
Cottage Economy William Cobbett. This might be worth considering alongside the painting by William Redmore Bigg and about which I have written an article. It clearly outlines the ecosystem of the home, the reflexiveness of the relationship between ale and bread. Tea is shown as the interloper in the home of the worker with associated illusions of grandeur and false values.